We all know Lush is a brand who pride themselves on their ethical stance including fighting animal testing, being 100% vegetarian and ethically sourcing their products. They are also an activist for many social issues. Which is great! Until their recent campaign was introduced a few days ago. Using the hashtag #SPYCOPS, Lush aimed to raise awareness about undercover police officers who would infiltrate activists' lives to gain insight into their activist group. Mainly women were the target of these operations with many male police officers forming romantic relationships simply to gain information. Now those, male and female, affected by these operations are demanding answers and have joined forces with Lush.
The concept of this campaign isn't a bad one in any way. Personally, this was not an issue I was ever aware of. Being young and naive I'm sure doesn't help, especially as these operations were common during the 1960's but have continued into the recent decades. It is not a topic we see filling up our news feeds. Lush have brought a severe social issue into the light.
However, their strategy for conveying their messages were a little odd. A friend first mentioned the campaign to me knowing I would be interested in the PR shambles being portrayed across social media. So I immediately found the video that was leading the campaign and gave it a watch. As the lead to the campaign I think the video does what it should, it informs and educates which I assume is Lush's objective for this campaign. However, I then ventured into the world of Twitter where 'Lush' was at the number five trending spot. Scrolling through the publics tweets, a very negative view of the campaign was profound. Included in these posts were ones from members of the police force themselves who found the campaign offensive and untrue. Many people were angry at the fact that our hardworking police force were getting dragged through the mud.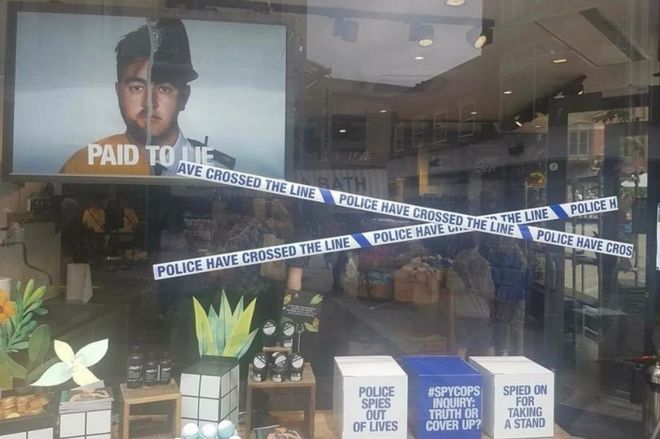 Lush decided that a window display would accompany their video within this campaign. The minimalistic display simply does not convey the true message intended and I believe caused further confusion amongst the general public. When I look at this display, I make the immediate assumption that Lush are telling me that all Police are corrupt and are 'paid to lie'. Which of course isn't the case and wasn't what this campaign was supposed to achieve.
This campaign, despite its powerful and important message, was conveyed in a poor manner. From what I have seen of the feedback this campaign has received, the key message has not been fully understood. Lush themselves did release a statement stating; "This campaign is not about the real police work done by those front line officers who support the public every day – it is about a controversial branch of political undercover policing that ran for many years before being exposed". In their full statement, they supported the police force as they are "doing an increasingly difficult and dangerous job whilst having their funding slashed". Lush have not made an official apology and do intend to continue their campaign for the next three weeks as originally planned.